Facilities Management Training
Thank you to all that attended. Save the date NFMT 2018 will be March 20-22.
PRICING
Conference Registration
NFMT is free to attend. Your registration includes access to more than 120 educational sessions, entry to the industry's largest FM Expo Hall, facility tours, networking events and the opening night networking party.
Register for Free
NFMT Membership
In addition to your complimentary NFMT registration, become a member and receive benefits before, during and after the event. Plus receive a discount on pre-conference workshop registration. Your membership is valid for one year from purchase.
Become a Member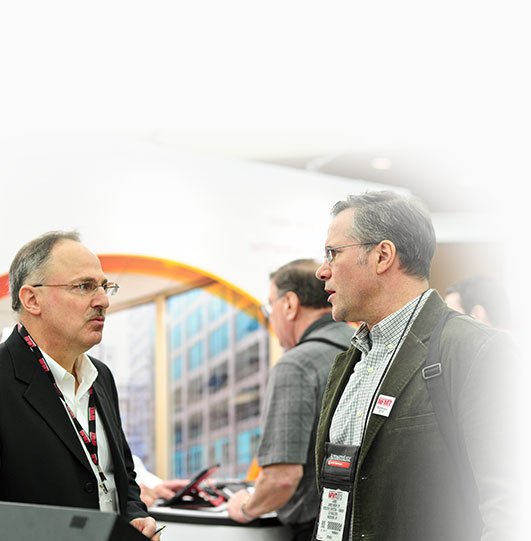 The education topics all were very relevant and current"
How Do I Register?
You can register for NFMT on our online registration page.
Can I Add To My NFMT Registration?
You have the option of adding pre-conference workshops and a 12-month membership when registering for NFMT.
NFMT Membership
Joining is as easy as registering for NFMT, just simply selecting the option to become a member when you register for the conference. The $99 fee allows you to receive all the perks and benefits for a full year, including:
Before NFMT
Discounts for pre-conference workshops
Early sign-up for tours and events
Only members have access to the handouts a week prior to the conference. All other attendees will receive the handouts a week after the event.
---
During NFMT Events
Avoid Lines - Pick up your Badge and Membership card on Monday
Member Lounge on the Exhibit Floor
Drink Coupons at Opening Night Reception
A Member Only Shirt
---
After NFMT
Conference Videos – as an NFMT Member you'll receive exclusive access to over 30 full conference video sessions filmed in Baltimore. The 30+ conference videos from this event will be posted for members a week after the event.
Past Event Video Library - in addition to the 30+ videos filmed at NFMT 2016, members have access to over 100 session videos filmed at previous NFMT events around the country. This gives you access to a robust library of quality content.
Quarterly Live Webcasts
Weekly Member Email featuring unique content
---
Future Events
Just a reminder, your NFMT membership gives you the same great opportunities and offerings at other NFMT events throughout the year. Join us at High-Performance Buildings and Workplaces in Dallas, TX May 17 – 18 and NFMT Orlando November 14-15.