Facilities Management Training
Pricing
$0
Conference Registration
NFMT is free to attend. Your registration includes access to more than 125 educational sessions, entry to the industry's largest FM Expo Hall, facility tours, networking events and the opening night networking party.
$99
NFMT Membership
In addition to your complimentary NFMT registration, become a member and receive benefits before, during and after the show. Plus receive a discount on pre-conference workshop registration. Your membership is valid for one year from purchase. Become a member
$99 member / $149 non-members
Pre-conference Workshop
Join us on Monday for in-depth workshops.
Monday, March 19, 1 PM–5 PM
How Do I Register?
You can register for NFMT on our online registration page. (Coming soon!)
Can I Add To My NFMT Registration?
You have the option of adding pre-conference workshops and a 12-month membership when registering for NFMT.
Do I need to register for the Smart Building Innovations Conference separately?
No. Your NFMT registration includes access to the SBIC conference sessions and expo.
A must attend event every year.
— Willie Jones,
HVAC Technician, Johns Hopkins University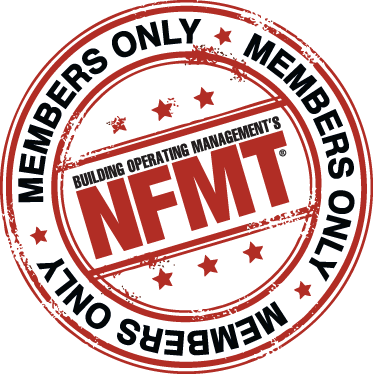 Joining is as easy as registering for NFMT! Simply select the option to become a member when you register for the conference. The $99 fee gives you access to a full year of membership with all the perks and benefits included! Here's what you get:
Before NFMT
Discounts for pre-conference workshops
Early access to tours and special event registration
NFMT Session proceedings and handouts provided 1 week prior to the conference (non-members receive handouts a week after the event concludes)
During NFMT Events
Monday registration hours ( non-member registration opens Tuesday morning)
Access to the Member Lounge in the NFMT Expo
Additional Drink Coupons redeemable at Monday's Opening Night Reception
An NFMT Membership Shirt
After NFMT
Exclusive access to over 30 full-length conference session videos filmed in Baltimore, posted for members approximately 1 week after the event.
Access to the NFMT video archives—more than 100 previously filmed presentation from previous NFMT conferences in Baltimore, Las Vegas and Orlando. It's the most robust FM video library you available today!
Free Webcasts throughout the year on key FM issues
Enrollment in NFMT's Weekly Member Email service, featuring exclusive NFMT content
Future Events
Just a reminder, your NFMT membership gives you the same great opportunities and offerings at other NFMT events throughout the year. Join us at NFMT Vegas November 6-7.
If you plan to attend NFMT, add the membership during the registration process. If you have already registered for NFMT you can become a member here.
To check on the status of your membership please contact Steve Soller at 414-228-7701 ext 454 or steve.soller@tradepress.com. $99 for a 12 month membership.